This year marked the 7th anniversary of Chicago's premier culinary event, Chicago Gourmet. Created by the Illinois Restaurant Association and presented by Bon Appétit magazine, Chicago Gourmet continues to impress year after year. Held September 26-28 in Millennium Park, Chicago Gourmet 2014 was once again a sold out event (on Saturday and Sunday), reaching more than 12,000 over the course of 3 days.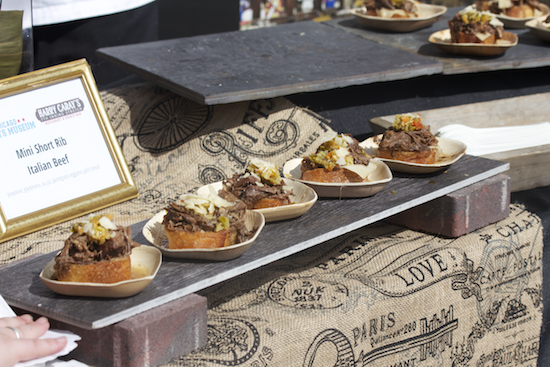 Although this year's event introduced many new foodie options, including new pavilions (hello BBQ!), new chef talent, and plenty of new restaurants, there were several new experiences that gained Bistro Chic kudos:
Meet the Chef – I was incredibly impressed with the presence and accessibility of the well-known Chicago (and beyond) chefs and master sommeliers at this year's event. Sure, celebrity chefs have been there in the past, but this year's local celebrities were quite visible and could often be seen mingling with crowd. In my chef-loving book, this makes the hefty price of admission more than worth it.
Pass the Apps – Whether a new gimmick or merely a way to appease patrons standing in long food lines, the passed appetizers and drinks throughout the main tent area were much appreciated. One piece of advice – although nearly everyone loves donuts (ie. Stan's), sugary treats are probably not the best choice for keeping foodies content while waiting in winding queues – unless of course you are at Disney World.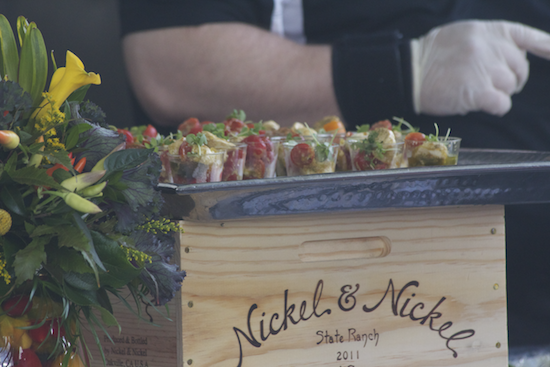 "Green" Gourmet – If you've ever attended Chicago Gourmet, or any type of outdoor food event, you know that food options are often served on small, disposable plates/dishes. As you can imagine, unless you make a conscious effort to go green, these plates can lead to substantial environmental waste, which could sour the experience for even gourmet purists. This year, Chicago Gourmet partnered with Verterra Dinnerware to provide the stylish but sustainable (read: Earth friendly) plates to hold restaurant fingerfoods. Although I saw several restaurants that opted to use typical, plastic dishes, many used those from Verterra. A huge thank you to those restaurants for helping reduce our wasteful footprint while also supporting a new company.
Having attended Chicago Gourmet for the last four years, I can easily say that each year its success has grown. From savory bites to sultry sips – not to mention rubbing elbows with thousands of chefs and aspiring gourmands – the organizers know how to keep the event fresh and fun….with a splash of posh for good measure.
Check back for a celebrity chef recap later this week!